Thinking While Black
#LIND20 | January – April, 2020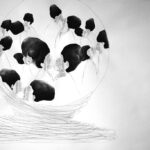 Blackness as a form, concept and experience, has fundamentally shaped American iconographies, language, media, and cultural productions. This series invites us to consider Blackness as both a culture and a mode of thinking. The series will meditate on the structures of race in North America and will spotlight the seemingly disconnected forms of racial violence that hide in plain sight. How, despite shifts in rhetoric and political policy, have so many forms of racial violence persisted? How, we ask, can we rethink ourselves by understanding our relations to blackness?
The Phil Lind Initiative 2020 series at UBC will explore these questions and more, with visits from foremost intellectuals including Claudia Rankine, Ta-Nehisi Coates, Roxane Gay, Ibram X. Kendi, and Jesmyn Ward. Each of the public events being held at UBC Vancouver is free to attend.
The Phil Lind Initiative is hosted by the UBC School of Public Policy and Global Affairs. The initiative's mandate is to invite prominent US scholars, writers, and intellectuals to UBC to share ideas with students, faculty, and the wider community on some of the most urgent issues of our time.
Important Notice:
Due to the impacts of COVID-19, we have postponed our Thinking While Black series events with Ibram X. Kendi and Jesmyn Ward. We will update this page once new dates have been confirmed. Thank you for your understanding.
---
GPP 591 Lind Initiative Seminar
Led by Dr. Phanuel Antwi, Assistant Professor, UBC Department of English Language and Literatures, this series of lectures, panels, and workshops asks how Blackness manifests in often unconnected guises that can be tracked through the event of racial violence, and what can be done about it.