GPP 591C Lind Initiative Seminar: Thinking While Black
WHAT: A 3 credit course
WHEN: Tuesdays, 3:00 – 5:00 PM, Winter Term 2, January – April, 2020
Please note: One class is scheduled from 3:00 – 5:00 PM on Wednesday, January 15, 2020.
WHERE: Liu Institute for Global Issues – Boardroom
WHO CAN APPLY: This is a competitive entry graduate course for UBC students from any faculty. Graduate students and fourth-year undergraduates are encouraged to apply.
Applications are now closed.
Led by Dr. Phanuel Antwi, Assistant Professor, UBC Department of English Language and Literatures, this seminar series will explore the theme, Thinking While Black, with visits from some of the world's leading intellectuals on the topic including Claudia Rankine, Ta-Nehisi Coates, Roxane Gay, Ibram X. Kendi, and Jesmyn Ward.
By fundamentally shaping American iconographies, language, media, and cultural productions, blackness, as a form and concept, has given American culture its identity. This series asks how Blackness manifests in often unconnected guises that can be tracked through the event of racial violence, and what can be done about it. In framing Blackness as both a culture and a critical mode of thinking, one that offers possibilities for all of us to rethinking the self, this series will meditate on the structures of race in North America, and will spotlight the seemingly disconnected forms of racial violence that hide in plain sight: the murders of innocent black men by state police and private citizens acting as militia; the disproportional rates of incarceration that Michelle Alexander has named "The New Jim Crow;" the disproportional rates of sexual assault on black women that manifested in the #MeToo movement (started by Tarana Burke); the disproportional rates of discrimination and violence experienced by black queers and trans people within the queer community; the high rates of addiction, HIV, and diabetes in Black communities; the violence of American militarism through drone warfare and weapons sales across the globe. How, despite shifts in rhetoric and political policy, have so many forms of racial violence persisted? How, we ask, can we rethink ourselves by understanding our relations to blackness?
Contact info: lind.initiative@ubc.ca
Course Instructors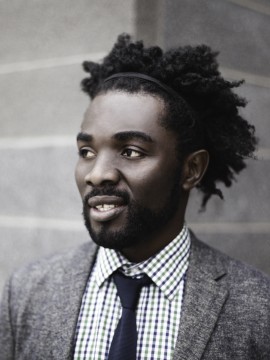 Dr Phanuel Antwi
Assistant Professor, UBC Department of English Language and Literatures
Dr Phanuel Antwi
Assistant Professor, UBC Department of English Language and Literatures
Phanuel Antwi is assistant professor of English at University of British Columbia. He writes, researches, and teaches critical black studies; settler colonial studies; black Atlantic and diaspora studies; Canadian literature and culture since 1830; critical race, gender, and sexuality studies; and material cultures. He has published articles in Interventions, Affinities, and Studies in Canadian Literature, and he is completing a book-length project titled "Currencies of Blackness: Faithfulness, Cheerfulness and Politeness in Settler Writing."