Visiting Fellow Robert Muggah Awarded the 2017 Lewis Perinbam Award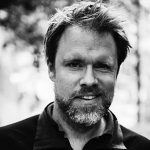 In January 2018, Lind Initiative Visiting Fellow Robert Muggah was awarded the 2017 Lewis Perinbam Award for International Development from the World University Service of Canada (WUSC). This award recognizes the quality and wide ranging nature of Robert's work on critically important global issues and international partners. It is to be awarded at the annual WUSC/CECI summit in Ottawa on January 19th, 2018.
Learn more about the award here.